Michelle Crawford - WAI Compliance Verification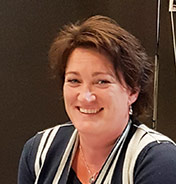 Michelle is a viticulture consultant based in Central Otago since 2007. Before this, Michelle travelled and worked with wine in France, Japan, Australia, South Africa and the USA. In New Zealand, she has also worked in Martinborough and Nelson and has completed both a Post-Graduate Diploma Viticulture and Oenology (1999) and a Masters Applied Science (Viticulture) (2005) at Lincoln University. She also trained in the implementation and auditing of quality management systems.
She joined the WAI audit team for the 2017 audit season.
Contact : michelle@mcrawford.co.nz