Tony Robinson - Horticulture Post Harvest Services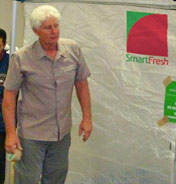 Tony was the founding Director of WAI, which owns vineyard and horticulture orchards in the Nelson region and is an accredited agrichemical spray applicator.
Tony came "on board" the Post-Harvest Services team, based on his scientific and engineering skills that are used for equipment assessment, maintenance and development. He has developed Post-Harvest structures for Japan, China and Korea along with determining the suitability of structures within New Zealand.
Tony also assess the "air tightness" of cool rooms, tents etc. for post-harvest applications.
Tony has been with the team since 2004 when he was involved with Smartfresh™, Kiwifruit trials in Europe and UK.
Contact: trobinson@wai.co.nz